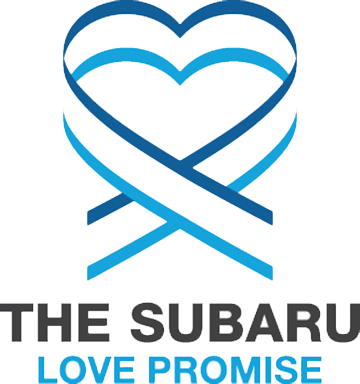 What is the Subaru Love Promise?
Subaru and our retailers believe in making the world a better place and the Subaru Love Promise is our vision of respecting all people. This is our commitment to show love and respect to our customers and to work to make a positive impact in the world.
How is International Subaru of Merrillville dedicated locally to the Love Promise?
Our Love Promise can be seen in various partnerships with local charities and non-profits. We're grateful for the opportunity, not only to be a part of our community, but to serve it as well.
Humane Society of Northwest Indiana
Forest Preserve Foundation
Meals on Wheel Northwest Indiana
Love Promise Stories from International Subaru of Merrillville
Subaru and International Subaru of Merrillville believe in making a positive impact on the communities in which we live and work. We uphold that belief through our Love Promise Community Commitment. Every month, we select inspiring stories from customers and partners from around our area who strive to support our collective commitment and feature them here
Thank you, Subaru! - Sue W
On Wednesday, July 25th I was honored to be part of the team at Franciscan Health in Crown Point, IN to meet the International Subaru of Merrillville and Chicago-based Leukemia and Lymphoma Society (LLS) Representatives. Subaru in partnership with LLS graciously donated 80 blankets to our cancer patients through the "Loves To Care" initiative. The Representatives were able to meet and provide this "gift" to several of our patients during their visit. The patients were grateful to receive these blankets and appreciated the warm gesture. I have been an Oncology Nurse for several years and I was touched to see the interaction between the Representatives from Subaru and LLS with our patients. It was a big surprise to our patients to have someone they didn't know take the time to sit and talk with them and give them this "gift". This caring gesture goes a long way to those fighting cancer and their loved ones. It was very impactful to all of us involved and we'll continue to give this gift to our patients. I would like to give a heartwarming thank you to Subaru and LLS for choosing Franciscan Health to be part of the "Loves to Care" initiative to spread hope, love and warmth. Thank you.
---
A Moving Experience - Sue W
The fact that Subaru "Loves to Care" by giving back to the community was evident the other day when they arrived, along with a representative from the Leukemia & Lymphoma Society, with box after box of blankets to give to our oncology (cancer) patients. The Subaru and Leukemia & Lymphoma representatives presented the warm blankets to the patients and took time to talk with each patient and wish them well. The patients were overwhelmed with joy, smiles on their faces, hope in their eyes as they realized that complete strangers were willing to take the time to visit them, bring them gifts and wish them well on their difficult journey. The generous donation, genuine kindness and thoughtfulness of the representatives brought tears to our eyes. We are so grateful to Subaru "Loves to Care" for supporting their local community through this program and making a difference in partnership with the Leukemia and Lymphoma Society.
---
A Warming Gesture for Cancer Patients - Sue W
As part of a public service campaign in partnership with the Chicago-based Leukemia and Lymphoma Society, International Subaru of Merrillville representatives Chris Smith, sales manager, and Nick Ferguson donated 80 blankets, "to spread hope, love and warmth," for cancer patients at Franciscan Health-Crown Point. Subaru dealers, through the Subaru, Loves To Care project, are donating 40,000 blankets nationwide. Rick Peltier, local executive director of the Franciscan Health Foundation, expressed gratitude for the donation. "It is amazing what Subaru is doing to give back to the community in such a heartwarming way. To help comfort patients, who are going through a lot of anxiety in their lives, says a lot about the organization."
---
International Subaru / Methodist Hospital - Kate K
It was great to be a part of this delivery as an LLS employee. International Subaru of Merrillville has chosen Methodist Hospital multiple times as their hospital of choice with regard to the Subaru Loves to Care program. It was great to meet the administrators at Methodist and the wonderful employees at International Subaru.
---
Indiana Literacy - Imran M
When the staff at International Subaru of Merrillville were asked in August of 2014 who they wanted to support as a local charity for the Subaru Share the Love Event, the unanimous decision from all employees was the Indiana Literacy Association. This mostly volunteer organization has tasked itself with promoting literacy of adults across the state by providing one on one tutoring in reading and writing, basic computer literacy skills, and even family literacy programs. International is proud to be able to support such a great cause with a little over $5,000 that was raised during the Share Love Event in 2014 for the Indiana Literacy Association.
---